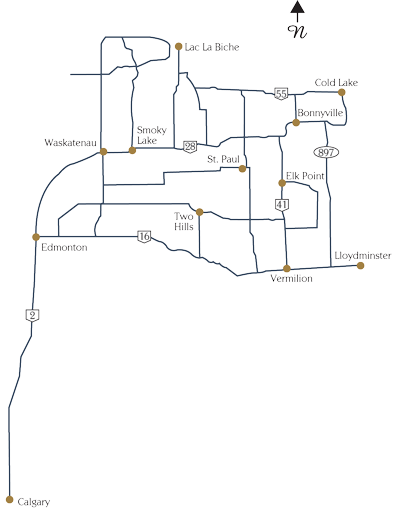 Lakeland Catholic School Division is located about 250 kilometres from Edmonton. The two major urban communities in the jurisdiction are Bonnyville and Cold Lake. Within these communities, the district operates six schools: Three in Bonnyville and three in Cold Lake, which all boast of offering dual-track programs (English and French Immersion). In 2006, the Division expanded to include the counties of Smoky Lake and Thorhild, and within this area, Lakeland Catholic opened a new Catholic School in the Village of Waskatenau to meet the needs of the Catholic communities. In 2016, the Division expanded to include Lac La Biche, opening a new school in the hamlet of Lac La Biche.
The Lakeland region of northeastern Alberta has a rich multi-cultural identity, a reflection of its diverse settlement history. The earliest inhabitants were aboriginals who were later joined (in the early 1900's) by French-Canadian pioneers from Quebec, followed by a significant wave of Polish and Ukrainian immigration in the late 1920's. In the early 1950's, the federal government developed a Canadian Air Force Base (4 Wing Cold Lake) and town-site and since then, the base staffing and rotational protocol has ensured a healthy influx of new residents from across the country.
The regional economy is differentiated by locale. One aggregate, oil and gas production is the keystone of the regional economy. Bonnyville and Waskatenau derive the largest share of benefits from the agricultural sector while 4 Wing Cold Lake plays a leading role in the economic health of the City of Cold Lake. The community of Lac La Biche and surrounding area is supported by the oil and gas industry, logging, forestry, agriculture and commercial fishing. 
Additional Community Links
Please visit the following links for additional information on the regions and communities we serve.
Alberta Community Profiles